What's Your Fire Escape Plan?
I'm a bit ashamed to admit that it was my 5 year old who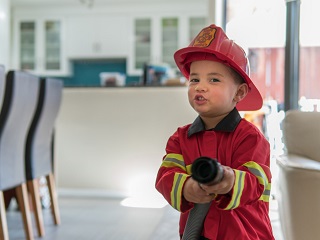 asked me how he would escape in the case of a fire. I'm glad he did, though, because this an important discussion every family can have, and one that parents should initiate with children of any age.
The first thing you'll want to do (as parents or as a family) is map out the possible escape routes. If there is a fire in the kitchen, what would be the quickest way out? What if the fire is in the hallway near the bedrooms? Identify windows and doors that could serve as potential exits, depending on the position of the fire.
Then, meet as a family and rehearse each family member's exit plan. As you walk through your plan, make sure that exits are not blocked and that potential exits are operable by family members. For example, if your 8 year old would need to climb out of a first story window, make sure they know how to unlock the window and get safely down.
In addition, you'll want to assign responsibility for babies or other family members with limited mobility. You might come up with a plan like this: two brothers sharing a room will exit together, younger brother first; mom will make sure to get the baby to safety, Dad will check on any other family members and be sure the escape plan is being followed.
Next, decide on a meeting spot (my 5 year old has chosen a large tree some distance in front of our house). You should all agree on a central meeting point away from the house where you can quickly assess that everyone is there.
Some other safety measures include: having everyone learn how to call the fire department; regularly checking that the fire alarms work; and reviewing the fire escape plan consistently.
Fires do happen and preparation can make a lot of difference!

This article is not part of your continuing training. To access your required bulletins you must log in using the form in the upper left-hand corner of the screen. Then go to the TRAINING tab.