Archangels: Light Even in the Darkest of Places
On September 24, we celebrate the feasts of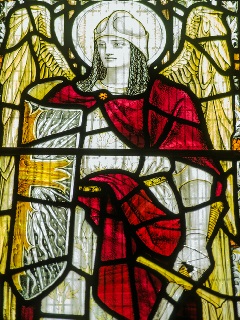 three Archangels, Michael, Gabriel and Raphael. These angels are the only ones named in scripture. It is they to whom God entrusted the care and protection of souls. You may remember the traditional prayer of Saint Michael the Archangel, known for battling the forces of evil and for protection:
St. Michael the Archangel, defend us in battle.
Be our defense against the wickedness and snares of the Devil.
May God rebuke him, we humbly pray,
and do thou, O Prince of the heavenly hosts,
by the power of God, thrust into hell Satan, and all the evil spirits,
who prowl about the world
seeking the ruin of souls.
Amen.
All around us, at every turn, there is an opportunity and temptation to choose the wrong thing and go down the wrong path. Invoke the power and protection of Saint Michael, who never fails to set your mind and spirit toward the light.
The Archangel Gabriel is well known for announcing the birth of Jesus to the Blessed Virgin Mary (Luke 1:26-33) and to Zechariah, announcing the birth of John the Baptist (Luke 1:13-19). He also assists the prophet Daniel in interpreting visions (Daniel 8:16). Being a herald of good news is a blessing in these days of bad news meeting us at virtually every corner. Ask the Archangel Gabriel for the inspiration to always choose good news to spread and proclaim.
We meet the Archangel Raphael in the book of Tobit: "I am Raphael, one of the seven holy angels who present the prayers of the saints and enter into the presence of the glory of the Holy One" (Tobit 12:15). He assists Tobit, Sarah and Tobias.
God has always sent his angels to guide and protect us and to push forth the light even in the darkest of places. May you take comfort, as many children have done through the ages, in the Prayer to the Guardian Angel:
Angel of God, my Guardian dear,
to whom God's love commits me here,
ever this day be at my side,
to light and guard, to rule and guide.
Amen.
This article is not part of your continuing training. To access your required bulletins you must log in using the form in the upper left-hand corner of the screen. Then go to the TRAINING tab.