What to Watch for at the Park
A few skinned knees or bruises from tripping during childhood are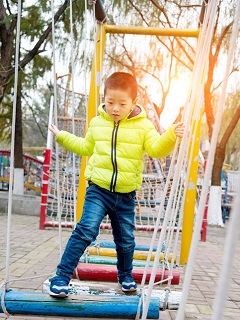 almost inevitable, it's true. But as parents and caring adults, we work to minimize injuries at places like playgrounds by observing our surroundings and preparing kids for challenges.
Here are just a few tips to consider next time you're with kids at the playground:
Age-appropriateness: There is special equipment designed for toddlers with shorter steps, slower slides, etc. Double check that your kids are on the equipment that's right for their height and ages.
Hazards: Check the ground and equipment for various dangerous materials like nails, glass and other sharp objects. Also ensure that kids are not playing on exposed metal surfaces when it's extremely sunny and hot outside!
Guidelines: Remind kids of safety guidelines such as taking turns on the slide, making sure they can reach something before they jump/swing/step, and being sure they can see you at all times.
Awareness: Adults monitoring the playground is important for general safety, and especially when it comes to helping kids negotiate playground disputes.
Along with these general precautions, it's also important to just be generally "checked in" when it comes to children playing on play equipment. Only you can assess when it may be time to go because a child is too tired or upset, or when a new situation (from an aggressive playmate to broken equipment) might mean it's not the best time to play.

This article is not part of your continuing training. To access your required bulletins you must log in using the form in the upper left-hand corner of the screen. Then go to the TRAINING tab.