Alleluia! God Has Dispelled the Darkness
Easter Joy! This hopes to find each of you in a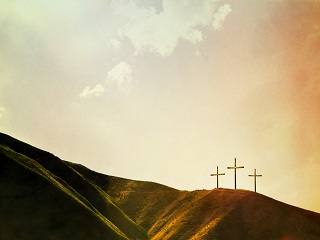 place of blessed joy after the long season of Lent has ended and the good news of the resurrection has come to fill our hearts. The powerful Alleluia comes to the hearts of all of the faithful whom God loves tremendously and most especially to those who have endured a long Lent. In a particular way, Alleluia comes to the hardened hearts of those who fool themselves into thinking that they are close to Him, when in actuality they are surrounded in a darkness that is blinding to them.
When you embrace the Easter Alleluia, you must be "all in," and not just partially present to the good news of the resurrection. There is no room here for the lukewarm, as Saint Augustine reminds us: "A Christian should be an Alleluia from head to toe." And, "We are an Easter people and Alleluia is our song." This Alleluia is no pithy pretense, or contrived good attitude marked by shallow words or floral pictures of empty tombs. Alleluia rises from a deeper reality of God's promise that life is stronger than death, that light conquers the darkness always. We believe this, we embrace it and we wrap ourselves firmly in the fullness of our Easter Alleluia no matter what trials we face, losses we endure or sorrows that cloud our lives.
For those who are suffering from loneliness and despair: Alleluia!
For those who are hungry, jobless, homeless: Alleluia!
For those who suffer from persecution, hatred and jealousy: Alleluia!
For those who have endured loss of health, depression, and anxiety: Alleluia!
For those mourning the loss of a loved one taken by age, disease, suicide, and violence: Alleluia!
For those who have been abused: Alleluia!
For those who embrace Joy as a way of life: Alleluia! Alleluia! Alleluia!
This article is not part of your continuing training. To access your required bulletins you must log in using the form in the upper left-hand corner of the screen. Then go to the TRAINING tab.