Spring Cleaning with Caution
Spring cleaning is supposed to help our quality of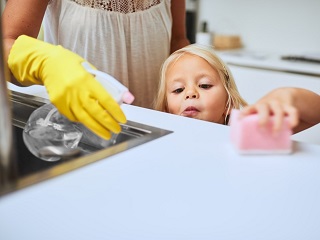 life, not hurt it! Have you ever walked into a newly cleaned room and smelled extremely strong chemicals? Those chemicals can (thank goodness!) kill germs, but many of them are also poisoning risks, and should be handled carefully.
Whether you're gearing up for a deep Spring Clean or just trying to get into a regular routine, here are a few things to keep in mind if you have kids in the house:
Be careful how you dispose of medication! In 2011, 67,000 American children went to the ER for accidental exposure to medication. Be sure everything is sealed and out of their reach.
Keep cleaning products and cosmetics closed and out of reach of kids. These account for some of the most common reasons (besides medication) parents call poison control for kids 5 and under.
Drain openers and toilet bowl cleaners can cause burns as serious as ones resulting from fire! If possible, find a time to use these cleaners when the kids aren't around, and choose their storage location carefully.
Long story short—when you're planning your Spring cleaning, ensure that you'll be able to keep children away from open containers and unsupervised access. This is particularly important for cleaning supplies or other dangerous materials you may be sorting out—such as medication and makeup.
You can find a fuller lists of poison statistics here. Don't forget to keep the Poison Control number close at hand: 1-800-222-1222.

This article is not part of your continuing training. To access your required bulletins you must log in using the form in the upper left-hand corner of the screen. Then go to the TRAINING tab.