Good Saint Joseph
What would we do without Saint Joseph?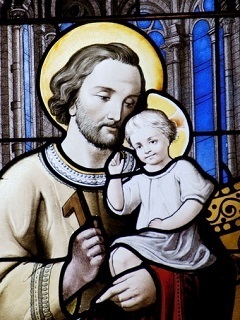 What would the holy family of Nazareth have done without his kindness, protection, sacrifice and love? He most certainly is the model of all fathers and step-fathers and all those who desire to support others in quiet, yet powerful, ways.

We know little of him, and God's plan has it that way. Yet, over the centuries, great devotion to him has proven the exemplary life he led caring for our Blessed Mother and her son, Jesus. The details of his great devotion can be imagined by carefully looking at the life of Jesus. How very sad they must have been when Joseph died and left them, but how powerful his presence must have been to have given Jesus and Mary their strength and determination to seek the good always and to champion it.

Today, the world is filled with so many quiet Saint Josephs, whose good deeds and presence staff food pantries, shovel sidewalks, assist neighbors in need, raise and support families, adopt children, care for widows and all those who come in their paths. So, so many people have benefitted from a Saint Joseph in their life. Commonly, he has come to be known to assist those in buying and selling their houses. He is the patron saint of carpenters and workers, and for assisting in a happy passing from this life into the next. He is the strength of many, whose altars throughout the world bless many churches with the inscription "It ad Joseph," which means "Go to Joseph!" When we are troubled, burdened and need the assistance of a quiet, unassuming giant, we go to Joseph, who listens carefully and acts quickly on our behalf.

We sing the praises of Good Saint Joseph, who would like anything but, yet we sing them nonetheless and follow his fine example of pointing all of our actions, thoughts and desires to Jesus, who must have loved him so tremendously. Saint Joseph, ora pro nobis!




This article is the copyrighted property of National Catholic Services, LLC. All rights reserved. To provide constructive feedback, or request permission to redistribute, please communicate with: editor@virtus.org

This article is not part of your continuing training. To access your required bulletins you must log in using the form in the upper left-hand corner of the screen. Then go to the TRAINING tab.