Being There, Showing Up
Lots of people don't want to get involved.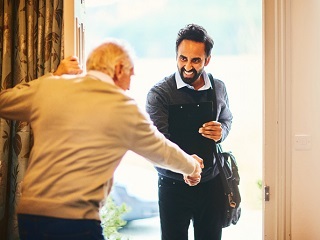 They don't want to be hurt, don't want to interfere in anyone's life, or to be placed in any position that makes them uncomfortable. They play it safe. There are enough problems in their lives which have taught them to stay out of the situations of other people's circumstances. It is often easier this way.

Unfortunately, the easy way isn't the way of the Gospels. We are disciples of Jesus, and we are called to be with the poor, sick, dying, lonely and abused. Where there is humanity there is suffering, and there you will find compassion and comfort in the person of Jesus disguised as you and me.

It is our job to rush into places most others would find uncomfortable. Of course, our almost-immediate reaction is that we can't do what is asked of us. In a world of licenses, certifications and accreditations, we don't feel equipped or qualified to handle what comes before us. What can we possibly say to comfort someone who just received a diagnosis of cancer, or to poor parents who just lost a child, or to a hungry family who can't find work, or to an elderly resident of a nursing home whose family doesn't visit, or to a person who is depressed?

We can't solve the problems of the world, or even of our family and friends. We can't solve hunger, depression, loneliness or sorrow, but we can abide it and be present to it. We can show up and be there for a person and exert some patience in being present to comfort others—not so much with words, but with a gentle, affirming, abiding presence. Often, it is all that is needed. People know we can't always solve things, but they also know that burdens shared are burdens lightened. Being there, showing up, knocking on the door at uncomfortable times is our Christian duty. Do not be afraid!




This article is the copyrighted property of National Catholic Services, LLC. All rights reserved. To provide constructive feedback, or request permission to redistribute, please communicate with: editor@virtus.org
This article is not part of your continuing training. To access your required bulletins you must log in using the form in the upper left-hand corner of the screen. Then go to the TRAINING tab.