Grandparents
Each year, grandparents are celebrated nationally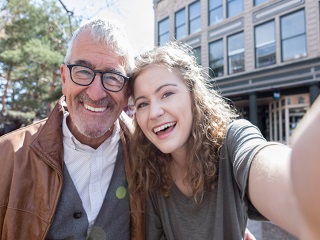 in the fall and this year they are recognized on September 8. If you have been fortunate enough to have had a special relationship with your own grandparents, you know how much of an impact they can have on your life.

As a child, our first experience of God comes in many ways. For some, God is the person who watches to see if you are behaving and doing well in school. To other children, God is all loving and present in the wonderful ways that their parents care and provide for them. No matter how God is made known to us, the special gift of grandparents makes manifest His all loving and generous presence. Consider the young child who, before Christmas, wishes for a bike. He has been told that Santa Claus has been watching him and paying attention to his good and bad deeds. The young boy worries a bit on Christmas Eve as he tries to figure out if God and Santa saw all of his bad deeds. He is young and hopeful and goes to bed eager for Christmas morning. In the wee hours he races to the Christmas tree and sees a pile of gifts and hurriedly opens each one with excitement. His parents lovingly cheer him on, and when he reaches the last one, he realizes that there is no bike. God saw and Santa was a witness. Despite the many gifts he received, he is forlorn. He really wanted that bike. His parents urge him to enjoy the many gifts that Santa brought, but he is not so easily cheered until the doorbell rings at 1:00 pm and his grandparents arrive for Christmas Dinner. "Look what Santa delivered to our house by mistake! A shiny new bike!" He shouts with joy and hugs his grandparents with all his might. And there is God. And Santa, and his grandparents all at once. Happy Grandparent's Day!
This article is the copyrighted property of National Catholic Services, LLC. All rights reserved. To provide constructive feedback, or request permission to redistribute, please communicate with: editor@virtus.org
This article is not part of your continuing training. To access your required bulletins you must log in using the form in the upper left-hand corner of the screen. Then go to the TRAINING tab.