Epiphany: The God of Surprises
By Paul Ashton, Psy.D., D.Min.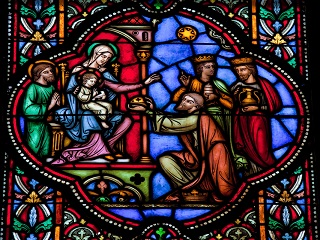 Consultant to the VIRTUS® Programs

"God is the God of surprises, that God is always new: he never contradicts himself, never says that what he had said was wrong, ever, but he always surprises us."
—His Holiness Pope Francis

The Solemn Feast of Epiphany for many means "Little Christmas" or the end of the Christmas Season, but Epiphany is far from an ending. It is a magnificent beginning where the Light of Christ is made manifest to the whole world and all of the various events celebrated by the feast are revelations of Christ to man. The few gathered around the Light of Jesus at His birth were awed by His simple majesty, and when the Magi arrived the news of His magnificent presence among us was brought to the corners of the world. Although the world was a much smaller place then, His message continues and has reached millions throughout the past 2,000 years.
The messages of Christmas and Epiphany are not only to be kept in our hearts, but overflow freely to others we meet on our journey. Epiphany reminds us that the fullness we feel in our hearts from Christ's love cannot be contained there, it must be spread. Epiphany charges us with the mission that we can never limit God and we never should.
Coming to know Jesus and to understand Him and His way is the beginning of our journey, but the rest of the story of our pilgrimage is far from over. We live and know Jesus' commandments, but our journey shows us vividly that we cannot stick to one script, one path, one way. It is too limiting. In a homily, Pope Francis stated: "I am attached to my things, my ideas—does this mean I am "closed?" or am I open to the God of surprises? Am I a person who stands still, or a person on a journey?"
Being a pilgrim on the journey with other pilgrims reminds us that while we are all in this together, the pace is different, the places are unique, the paths are diverse and the beginnings are staggered. Our encounters with each other should remind us where we once were, and where we would like to be. For many, a third view is one of thanksgiving of where we are, and grateful that we are not wearing the shoes of another. In addition, there are moments of grace-filled opportunities where we are enormously blessed. And the blessings are two-fold: if we give, we receive; if we receive we are propelled to share. Anyone who gives freely knows this and will tell you of the ways in which they have be blessed.
On the journey we are brought to places we never expected, which is exciting and challenging all at the same time. Sometimes those places are poor, sometimes they are of plenty, but they are always filled with the opportunity to share: bread, warmth, kindness, love, resources, shelter, security, peace. We carry on this journey all that we have learned about the Love of God and all that we know to be His Way. It should NEVER be a burden, however. It is liberating, showing a freedom that lightens our journey, rather than weighing it down.
As we begin the New Year, our resolve is to be better, healthier, thinner, wiser, richer, poor in spirit as in Blessed are the Poor of Spirit! Matthew 5:3). As we begin a new chapter on our pilgrimage, it might be good to be open to the God who surprises us, as Pope Francis reminds us. Sometimes we have to let go of people whose path has diverted from our own, or who weigh us down in ways we cannot tolerate. Sometimes we need to let go of the baggage of guilt that accompanies all of that and not give into the fear of their anger. Sometimes we might be better to see that others manipulate us to conform to what they need and want, ignoring what we need and who we are as persons.
It may be scary, upsetting, and even feel overwhelming, but being true to God's love in your heart will free you from the chains that weigh you down from fully accepting the path that you choose for yourself. The most powerful new beginning is choice. You have the power, the wisdom and insights to choose your path along with the other pilgrims on our mutual journey. Be open this Epiphany, to the surprises that God has in store for you through the persons, places and things He sends your way!
Pope Francis eloquently asks: "Do I believe that the story ends with Jesus Christ's death and resurrection?" or "Do I believe that the journey moves forward toward maturity, toward the manifestation of God's glory? Am I capable of understanding the signs of the times and of being faithful to the Lord's voice which is made manifest in them?"

God of Surprises, guide our path!
This article is not part of your continuing training. To access your required bulletins you must log in using the form in the upper left-hand corner of the screen. Then go to the TRAINING tab.