Creating and Sharing Christmas Memories
By Paul Ashton, Psy.D., D.Min.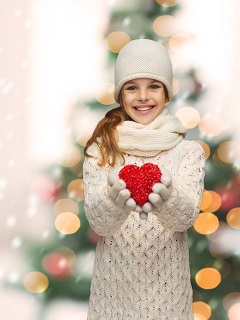 Consultant to the VIRTUS® Programs

"Our hearts grow tender with childhood memories and love of kindred, and we are better throughout the year for having, in spirit, become a child again at Christmas-time." —Laura Ingalls Wilder

At this time of year, past Christmas memories bring us back to places of joy and happiness. Most of us have a memory bank of those wonderful times that bring a smile to our faces and make us feel special and good. We all have special memories of something, and they can be triggered by the most surprising things—songs we hear, food we taste, flowers and perfumes we smell. It could be almost anything that will remind us, and then our minds wander way back in time and we are filled with a happiness and peace that seems to transcend time and space. Sometimes we don't have the clear pictures of the memories and events in our minds, but the powerful feelings of happiness that are triggered makes the memories very powerful. These memories bring us peace and fill us with hope. We learn to draw upon those memories especially at difficult times, and we relish those moments of daydreaming of a past time when all was right with our world. Christmas is one of those special times when memories flood our lives as we search to recreate them and relive the joy.
There are those among us, however, who are not as fortunate. Their memories of holidays past are not pleasant, and instead of bringing joy, they elicit sadness and discomfort. For many, the holidays are dreadful reminders of what could have been and were not. They are painful, upsetting and hurtful. We all seem to know someone who becomes depressed at this time of year, and it's sad for us because we don't know what to do. In celebrating our own joy, we tend to shy away from those who don't seem to want to get into the spirit of things, and we might label them as modern day "Scrooges." We don't quite seem to understand what is wrong with them.
It is for us, who embrace the newborn baby Jesus each year with glee, to be ever mindful that those with broken hearts are our sisters and brothers and in a most special way need our understanding at this time. These men and women are not responsible for what happened to them, and it is often out of their control and very difficult for them to embrace the holiday season with any sort of happiness. They often just want it all to be over. Sometimes their bad memories don't have anything to do with the Christmas holiday season, but this time of year and all of the happiness that surrounds it is just a reminder of their own trauma and search for elusive joy.
In a special way this Christmas, might each of us take just a little time to seek out an individual with whom we can share some time and spread some joy? By doing so, even in small ways and through little gestures, we help to rewrite the narrative of our sisters and brothers whose happy endings are still waiting to be written.
Never short of ideas, here are some helpful suggestions. Christmas is a season, so all of this doesn't have to be done in the thick of things. Plan on doing something when you are at your best and can offer your good gifts in a peaceful manner. Just pick one!
Ask your pastor if there is someone in your parish who could use a visit. Ask him to make the connection for you to call this person. Take a leap out into the deep and call this person and perhaps suggest a time for a visit with them. See how that goes. If this is too daunting, bake a cake or casserole (being mindful of food allergies and restrictions), attach a heartfelt note and ask if you can drop it off.

Call a local shelter or soup kitchen. Ask for a time when you can come to fill in for someone who needs time off—or even when it is busy and they need help the most. Go, volunteer and spread some joy just by listening and helping. Better yet, talk a friend into doing this with you. Share the wealth of your experience!
Many veterans are in need. They suffer trauma and loneliness in ways that it is hard for us to understand. Do some research and find a way in which you can pay a visit to a veteran in need. Even if you re-gift something, bring a brightly wrapped package of goodness to a veteran and thank him or her for their service. In a subtle way, invite them to share their story. Affirm their goodness.

There is likely a lonely person in your circle of friends. Perhaps there is a person who is hard to talk with because they seem negative, go on and on about themselves, and constantly challenge our patience. They might be hard to be with. Seek them out this season and ask them to help you come up with a little project to collect some small thing like a can of tuna fish, boxed cereal, coffee, soap, cookies, stamps or whatever you can brainstorm together. Make a plan of what friends you can ask to help you with providing just one of these items and plan together where you want to donate. Do your collecting, and drop off the items as a team. Share the good feelings of giving to others together over a treat!

Google your local arch/diocesan Victim Assistance Coordinator. Call them and identify yourself (tell them about this VIRTUS article!) as a person who would like to anonymously share some Christmas spirit. Ask them if you can buy a small, symbolic gift for one of the persons they are ministering to. Write a Christmas card sending good wishes, prayers and Hope at this time of Year. Sign your first name only and drop the card and gift off at the office so it can be delivered.
We are often angels in disguise. By doing one of these generous activities we perpetuate the message of the baby Jesus who entered our world as a helpless infant, but whose Divine power overcame the world with Love.
A Very Blessed Christmas from our Hearts to Yours and all you meet!

This article is not part of your continuing training. To access your required bulletins you must log in using the form in the upper left-hand corner of the screen. Then go to the TRAINING tab.